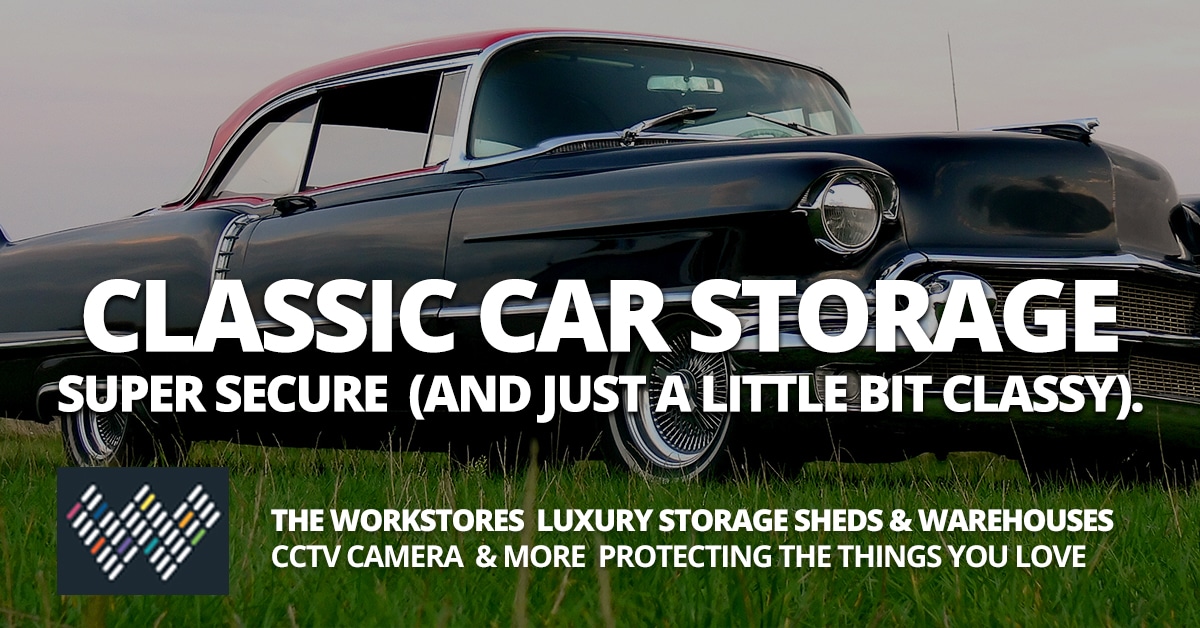 24 Sep

Looking for Brisbane's Best Classic Car Storage Solution?
The Workstores classic car storage sheds – A perfect environment for your prized vehicle assets.
If your home garage isn't quite cutting it as the classic car showroom you've always dreamed of owning, it's time to drive yourself into a squeaky clean Workstores luxury storage shed.
Hang up the vintage car keys and leave feeling confident in the knowledge your precious piece of yesteryear metal and memorabilia is safe and sound until next the urge to rev the engine overtakes you.
Our sheds are still fitted out with all the classic car garage must-haves and more. There's plenty of room to plan out your mini-showroom with enough space in between to zip around and pedantically polish your little beauties, tinker under the bonnet or simply sit in a state of wanderlust in your makeshift loungeroom as your eyes admire for hours.
Oh, the shine and splendour of it all.
The Workstores storage sheds come custom built with many man land garage luxuries. Mezzanine levels overlook your cherished possessions where you can set up your "Mission Control" office or lounge area – space to sprawl out your roadmaps as you meticulously plan every turn and detail of your next classic car adventure trip. And oh – if your classic car's leather seats demand well-groomed drivers before entering you can opt for a shower room in your shed too. With architecturally perfected highest of high shed ceilings, a chandelier wouldn't be out of the question either.
Decadent, we know.
There's also the assurance of 24/7 security cameras and a site caretaker. Eyes everywhere.
After successfully selling in other locations, we're excited to share the news of our next high end Workstores shed location in Salisbury, Brisbane.
The Workstores team have given Brisbane an architectural high spec designed shed. Squeaky clean floor to ceiling concrete. Watertight. 24/7 onsite management.
The Workstores latest build in Salisbury. Brisbane. Next-level storage solutions for those seeking a high end option. Own your own. Enquire today.
EXCLUSIVE TO THE WORKSTORES
5.4 metre, electric roller doors
7 metre clearance to ceiling
Architectural high-spec design
HD concrete floor
Full height tilt-up concrete panel construction
Individually metered power, water and telecommunication services
Individual water and sewer connection point
24/7 CCTV with mobile viewing
Secure site
Automatic gate to site
On-site manager
Communal wash bay
3 Phase Power
Skylights
Strata Title
Custom Extras like your very own bar.
PLUS many optional extras to suit your specific office and warehouse storage needs
Painted Walls
Air-conditioned Office space
Toilet
Kitchenette
Shower
To get yours, register your interest below.
Yes. I'm interested
The Workstores are location in prime locations throughout Brisbane and the Gold Coast. CLICK HERE to choose a location.