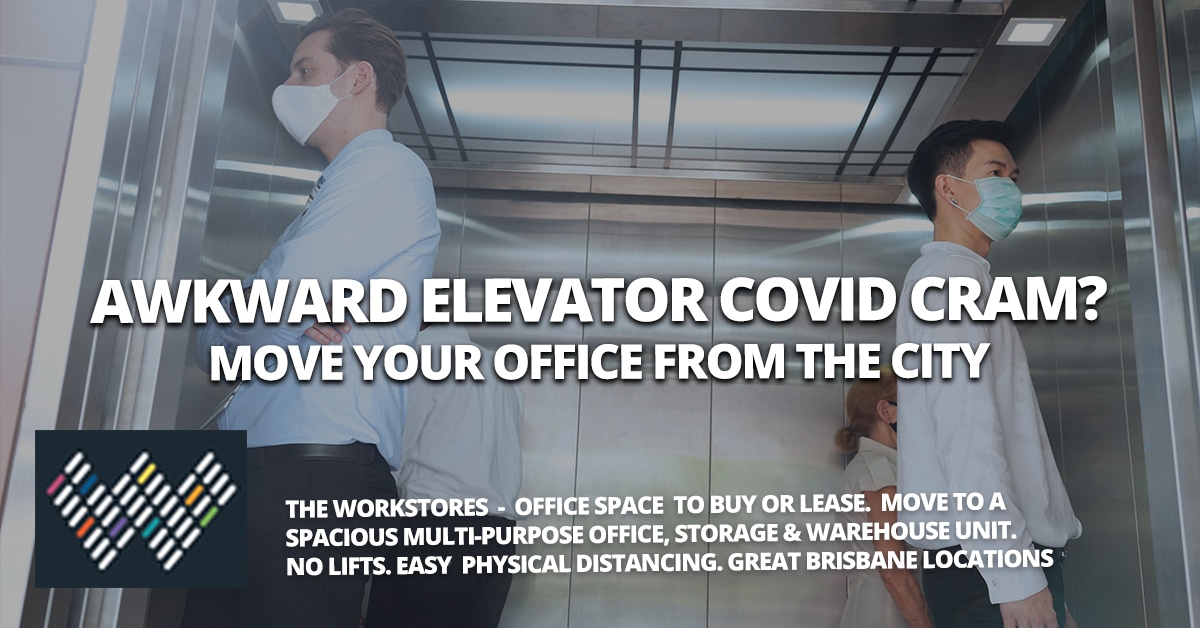 27 Nov

Covid Elevator Restrictions – Physical Distancing
Physical Distancing in Elevators - Is it even possible?
Can you remember the childhood game "Sardines"? Where one person found a hiding spot big enough for the rest of everyone else to fit into and then, one by one, all participants crammed into that one spot until there was one person left still searching where everyone was hiding?
Fond memories? Or childhood terror at the thought of those claustrophic conditions where everyone was crammed in together?
It's the latter response for us here at The Workstores. We're unashamedly space lovers through and through.
Sardines is definitely not a game we'd play in 2020.
And now with office buildings opening and workers flocking to high rise city office buildings the question of Covid elevator safety and etiquette needs to be raised.
This 'little' issue has prompted Safe Work Australia to write a case study on lifts (imagine having the task of writing that – yawn) and what business owners, building managers and the like need to do to meet the safe work place rules and guidelines.
Again. Yawn.
You can read it HERE. A thrilling piece of reading.
In a nutshell they suggest a plethora of safety measures and employee covid elevator etiquette (yes, it's a thing).
They raise options like staggering work start times so elevators aren't used at peak periods, signage to ensure the numbers in lifts are at the recommended passenger limits and other guidelines to ensure physical distancing rules are adhered to.
Suffice to say, with not a lift in site at our wide open spaces at The Workstores precincts, we're feeling a little luckier than most.
It's law now under work health and safety to manage the risk of spreading and contracting COVID-19.
If you're in a city office block and have lifts in the building you'll need to make sure you research the covid elevator restrictions, rules and safety guidelines.
You can do that – OR you can just come and take a peek at The Workstores and choose to relocate to a multi-purpose office space still close to Brisbane city but without the physical distancing issues experienced in city high-rises.
Come join us. We'd love to have you. Buy or lease.  Make contact today.
Lease or buy, you'll have….
Exclusive use entry Courtyards from street frontage
Aircon on both levels
Floor coverings upstairs and polished concrete floors on lower level
Toilet, shower and Kitchenette
CCTV. Secure complex.
Outstanding natural lighting.
Four exclusive use car parking. All onsite.
Three minute access to Pacific Motorway. Great for you and clients.
 Modern Funky Complex. You'll love going to work.
Watch the video to see potential fit out options with modern offices, boardroom and massive storage space. Footage with compliments from Warrell Constructions.