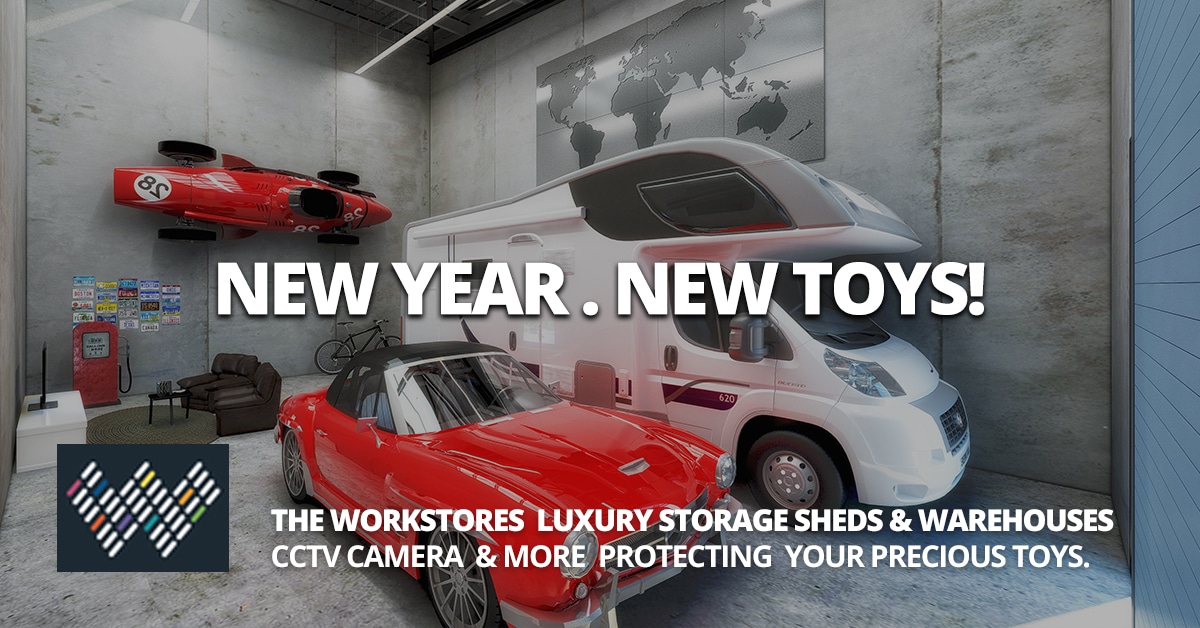 11 Jan

Make 2019 a happier new year.
Give yourself some space.
So. You treated yourself to a few new toys for Christmas hey? We can see you grinning from here. Nice!
If you're struggling to find the right space for your growing toy collection you might want to come and check out The Workstores.
Architecturally designed 'man cave' style masterpieces – the type of storage sheds you won't find anywhere else. The best of the best for all the toys you love.
You wouln't ask a loved one to live in anything less.
We've thought of all the luxuries too. Air-conditioning in the large open plan space so you can keep your cool while tinkering with all the toys in the hotter months, mezanine levels to maximise the space provided by fantastically high ceilings and even a shower and kitchenette.
Security has been top of mind through the design and build. We've added CCTV 24/7 security cameras and precinct caretakers.
The Workstores Wakerley can offer all these luxury extras to make our high-spec practical man cave storage, office and warehousing sheds seem like The Ritz.
Architectural high spec design. Squeaky clean floor to ceiling concrete. Watertight. 24/7 onsite management. 
The Workstores latest build. Things are coming together perfectly. SOLD signs already appearing. Own your own. Enquire today.
EXCLUSIVE TO THE WORKSTORES
5.4 metre, electric roller doors
7 metre clearance to ceiling
Architectural high-spec design
HD concrete floor
Full height tilt-up concrete panel construction
Individually metered power, water and telecommunication services
Individual water and sewer connection point
24/7 CCTV with mobile viewing
Secure site
Automatic gate to site
Caretaker
Communal wash bay
3 Phase Power
Skylights
Strata Title
Custom Extras like your very own bar.
PLUS many optional extras to suit your specific office and warehouse storage needs
Painted Walls
Air-conditioned Office space
Toilet
Kitchenette
Shower
To get yours, register your interest below.
Yes. I'm interested
The Workstores are location in prime locations throughout Brisbane and the Gold Coast. CLICK HERE to choose a location.