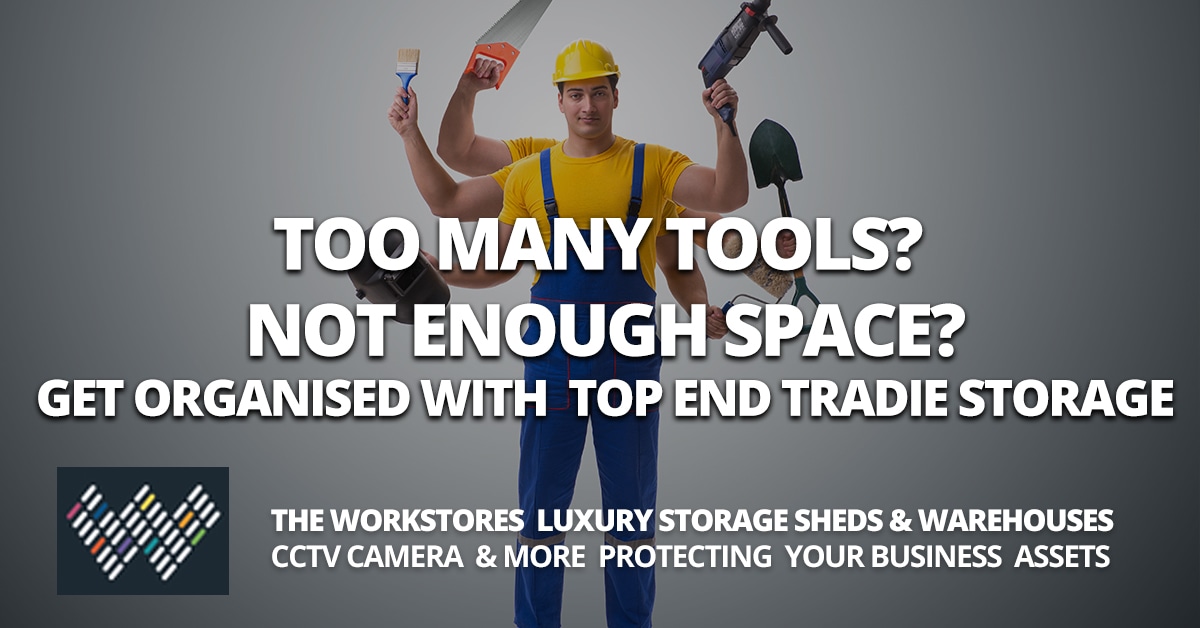 19 Nov

Made it in your Trade? Need More Space?
Tripping over your tool belt? It's time to get organised and get serious about storage
If you're a tradie  who's spent thousands building a business and buying a collection of quality tools, it's time to get serious about quality storage and move your business assets out of the back of the ute and into a secure storage facility. You, and your tools, will sleep better at night.
The Workstores offers the benefits of a secure place to base your trade business – both for ultra organised storage and as an office base. After a hard day on the tools you can return to your Workstore and enjoy the luxury of a 'shed' shower before returning home to family.
With a massive 7 metre clearance to ceiling and 5.4 metre roller doors, access to set up floor to ceiling storage for all your trade goods is as easy as a tradie pie.
Air-conditioning in the office space means a little reprieve after returning from a worksite on a harsh summer's day. The 4am barista brewed morning coffee from your own kitchenette when you arrive to hit the tools early is also welcomed.
Your expensive trade tools will be safe and sound with the added assurance of 24/7 security cameras and an onsite manager.
Our latest Workstores at Wakerley (building complete) and Salisbury (building under way) offer a fantastic trade shed storage solution whilst also being situated in easy to access prime locations in Brisbane.
No time to come and inspect? No worries!  Watch our 3D Virtual Tours and imagine yourself enjoying the luxury and convenience of space
Architectural high spec design. Squeaky clean floor to ceiling concrete. Watertight. 24/7 onsite management. 
EXCLUSIVE TO THE WORKSTORES
5.4 metre, electric roller doors
7 metre clearance to ceiling
Architectural high-spec design
HD concrete floor
Full height tilt-up concrete panel construction
Individually metered power, water and telecommunication services
Individual water and sewer connection point
24/7 CCTV with mobile viewing
Secure site
Automatic gate to site
Caretaker
Communal wash bay
3 Phase Power
Skylights
Strata Title
Custom Extras like your very own bar.
PLUS many optional extras to suit your specific office and warehouse storage needs
Painted Walls
Air-conditioned Office space
Toilet
Kitchenette
Shower
To get yours, register your interest below.
Yes. I'm interested
The Workstores are location in prime locations throughout Brisbane and the Gold Coast. CLICK HERE to choose a location.