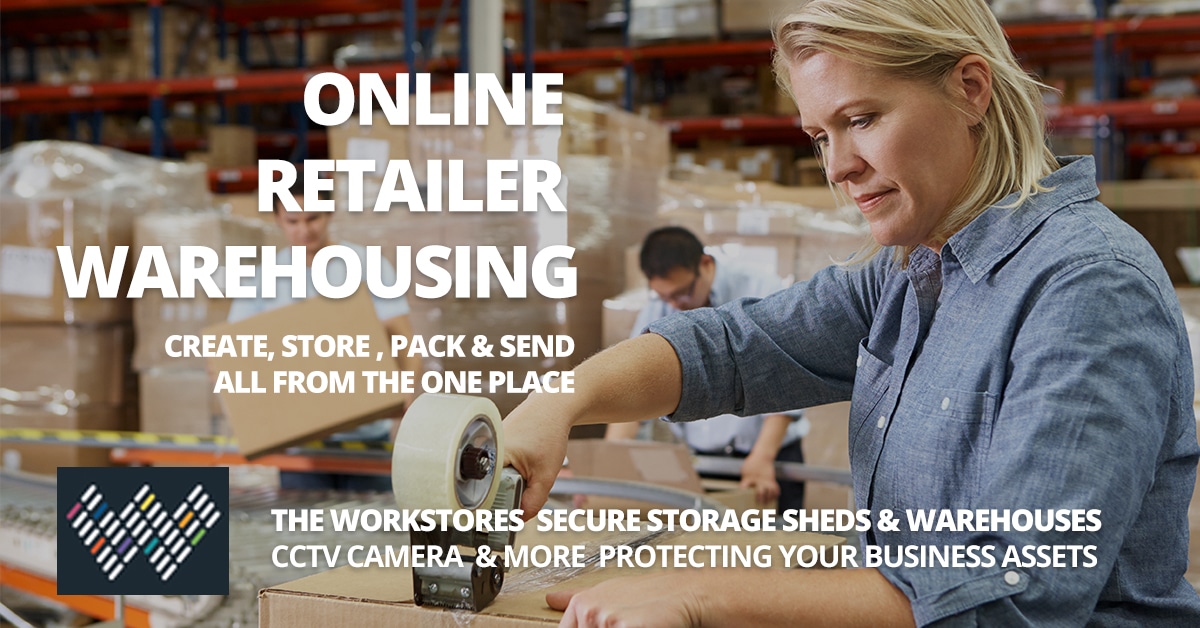 27 Jul

Workstores now being used for online retail warehousing
If you're an online retailer running out of space, we have just the place
We've recently had an increase in enquiries and one sale from online retailers needing warehousing, workshop and office space all in one.  The Workstores offers a complete solution to online e-commerce businesses that need to store and ship goods themselves.
Store and manage inventory in an organised, safe, clean environment
Reduce overhead with warehouse and administrative offices in one location
Lease out a warehouse OR buy and own your own. Never pay rent again.
As an online retailer, you know how important it is to have cost-effective storage. You've also noticed that commercial building rents are soaring, affecting your bottom line. Now you can get a handle on inventory storage, even have inexpensive office space, without throwing those costs right down the rental drain. Space beyond the home garage also gives you the luxury of efficiency and organisation.
The solution to your online retail warehousing?  A Workstores Shed.
Sturdily constructed—architectural high-spec design, HD concrete floor, and full height tilt-up concrete panel construction—your Workstores shed is perfect protection for the lifeblood of any online retail business: inventory.
No need to worry that your precious merchandise is secure, either. Your unit is  part of a secure facility, with 24/7 CCTV monitoring, on-site management, and automatic gated entrance.
To save even more on overhead, create a Workstores Workbase shed for the ideal office space. 3-phase power supply and electric, water, and telecommunication hook-ups make it ideal for server and administrative office space.
The clean, light, innovative design, makes it a great place to work.
A Workstores investment is also great for your bottom line. It is real property, so you can say goodbye to exorbitant rental prices and start building savings as the value of your property grows. A cost-effective storage and office solution that is great for the balance sheet—that's your Workstores investment!
Don't delay—reduce overhead and start saving today.
To get yours now, register your interest below.
The Workstores latest build. Things are coming together perfectly. SOLD signs already appearing. Own your own. Enquire today.
EXCLUSIVE TO THE WORKSTORES
5.4 metre, electric roller doors
7 metre clearance to ceiling
Architectural high-spec design
HD concrete floor
Full height tilt-up concrete panel construction
Individually metered power, water and telecommunication services
Individual water and sewer connection point
24/7 CCTV with mobile viewing
Secure site
Automatic gate to site
On-site manager
Communal wash bay
3 Phase Power
Skylights
Strata Title
Custom Extras like your very own bar.
PLUS many optional extras to suit your specific office and warehouse storage needs
Painted Walls
Air-conditioned Office space
Toilet
Kitchenette
Shower
To get yours, register your interest below.
Yes. I'm interested
The Workstores are location in prime locations throughout Brisbane and the Gold Coast. CLICK HERE to choose a location.