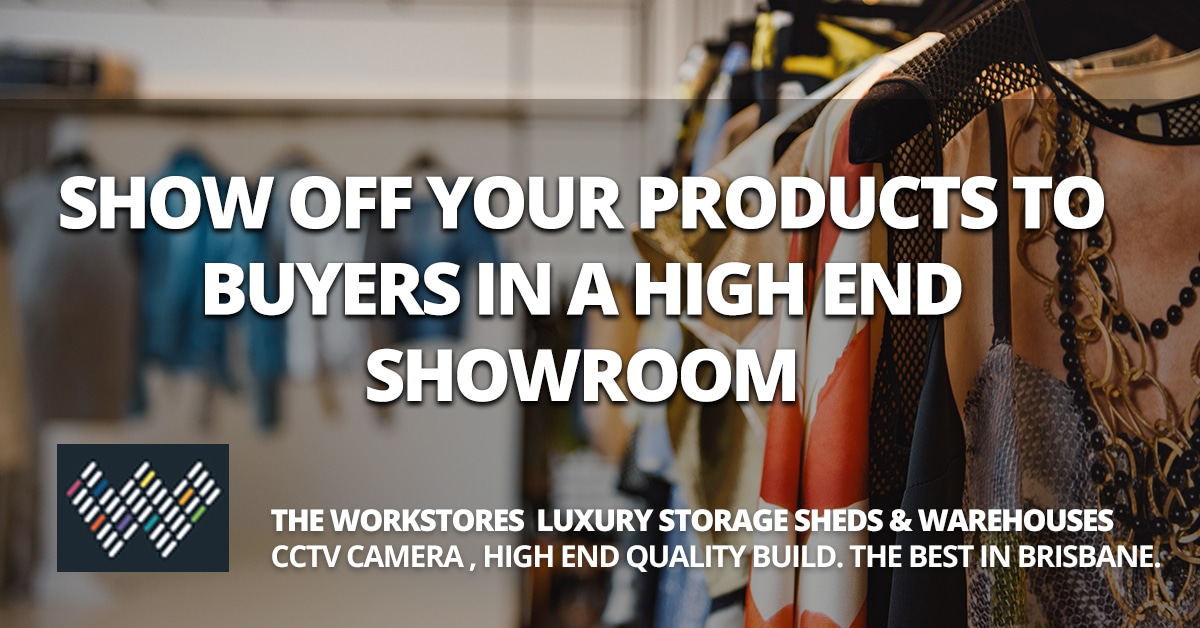 26 Feb

Showroom Space Brisbane – Buy or lease
Wholesalers! Show off your products in Brisbane's best showroom space
From furniture to fashion, showcase your products to potential retail buyers in an architecturally designed showroom where you can also neatly store your stock. PLUS it's also the perfect office space.Brisbane's best space. Buy or lease.
If you're in the importing/exporting game or you're a local wholesaler needing a showroom and office space we'd be happy to give you a VIP guided tour of The Workstores – a fantastic '3 in 1' showroom, storage facility and office solution.
We've designed spaces to suit a multitude of storage, warehousing and showroom uses. If your in the furniture business a Workstores shed gives you a combination of a warehouse and a showroom all in one. Arrange your latest furniture shipment into appealing room layouts retailers will love.
Fashion is your bag? Allow your buyers to walk through your 'catalogue' of clothes where they can be afforded a more tactile buying experience. The Workstores are super clean and water tight so stock damage will be a thing of the past. Present the latest trends, showcase, store and ship from one handy location.
Architectural high spec design. Squeaky clean floor to ceiling concrete. Watertight.
Need a quality showroom? Be a show off. Buy a Workstore.
The Workstores latest build in the suburb of Salisbury. Own your own. Enquire today.
EXCLUSIVE TO THE WORKSTORES
5.4 metre, electric roller doors
7 metre clearance to ceiling
Architectural high-spec design
HD concrete floor
Full height tilt-up concrete panel construction
Individually metered power, water and telecommunication services
Individual water and sewer connection point
24/7 CCTV with mobile viewing
Secure site
Automatic gate to site
Caretaker
Communal wash bay
3 Phase Power
Skylights
Strata Title
Custom Extras like your very own bar.
PLUS many optional extras to suit your specific office and warehouse storage needs
Painted Walls
Air-conditioned Office space
Toilet
Kitchenette
Shower
To get yours, register your interest below.
Yes. I'm interested
The Workstores are location in prime locations throughout Brisbane and the Gold Coast. CLICK HERE to choose a location.