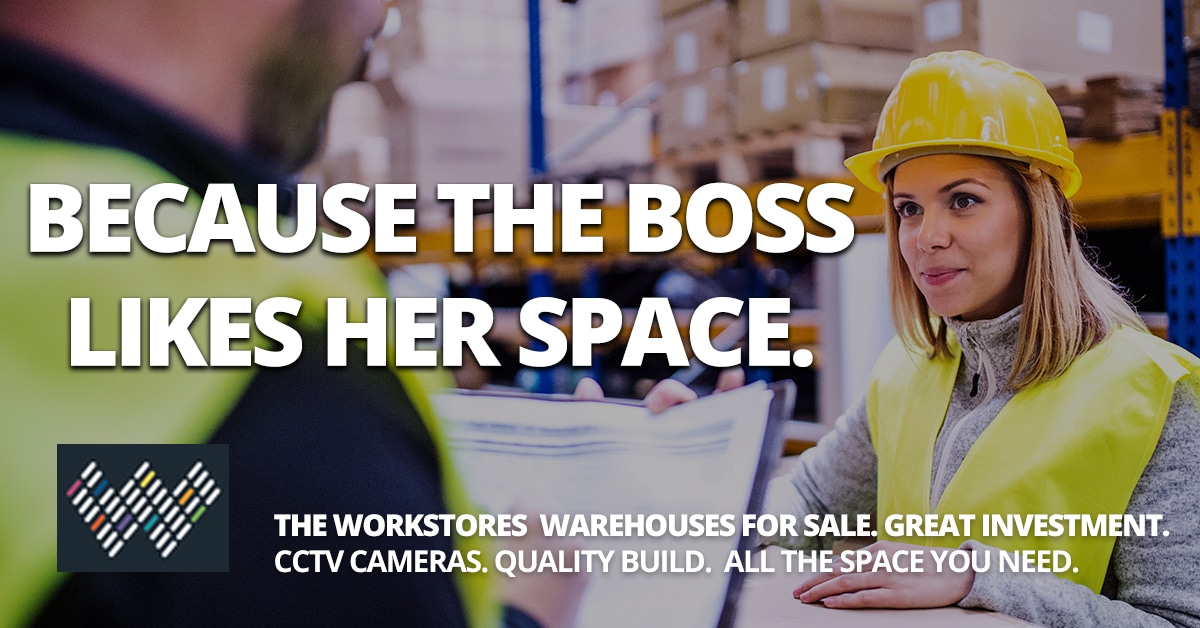 08 May

Warehouses for Sale – Warehouse Space – The Workstores Brisbane
If your job is to keep the boss happy, or you are the boss, may we suggest one of our warehouse spaces?
A cramped, disorganised warehouse. We couldn't think of anything worse.  So we thought up The Workstores Warehouse concept.
If the boss is on your back about finding quality warehouse space do yourself a favour and visit a Workstores Warehouse storage space – situated in prime locations throughout Brisbane.
As soon as you arrive to any Workstores location you'll feel the sense of space and security. With 5.4 metre high roller doors backing in truck loads of orders will be a breeze. Set up rows of floor to ceiling shelving either side as high as 7 metres. Use the mezzanine level space for a meeting room or office.
Choose custom extras like a bar area for after work drinks all in the comfort of your own space. Only if the boss lets you of course.
Warehouse space solutions for:
Trade businesses expanding their business out of the home garage
Builders needing to buy and store materials in bulk at wholesale costs
Wholesalers, Importers and Retailers with sky high stock levels
Online Shop Owners sending out to customers
SME organisations needing organised space for document storage solutions
The Warehouse is also a space for mobile businesses to safely store their vehicles, tools and materials in one, secure place.
If your present warehouse is bursting at the seams then a Workstores Warehouse space is something you'll want to seriously consider. Time to tell the boss you've found the perfect space.
Architectural high spec design. Squeaky clean floor to ceiling concrete. Watertight. Caretaker. Office. Kitchenette. 
See our latest Wakerley & Salisbury warehouse storage images below.
CALL US NOW TO OWN YOUR OWN.
EXCLUSIVE TO THE WORKSTORES
5.4 metre, electric roller doors
7 metre clearance to ceiling
Architectural high-spec design
HD concrete floor
Full height tilt-up concrete panel construction
Individually metered power, water and telecommunication services
Individual water and sewer connection point
24/7 CCTV with mobile viewing
Secure site
Automatic gate to site
Caretaker
Communal wash bay
3 Phase Power
Skylights
Strata Title
Custom Extras like your very own bar.
PLUS many optional extras to suit your specific office and warehouse storage needs
Painted Walls
Air-conditioned Office space
Toilet
Kitchenette
Shower
To get yours, register your interest below.
Yes. I'm interested
The Workstores are location in prime locations throughout Brisbane and the Gold Coast. CLICK HERE to choose a location.