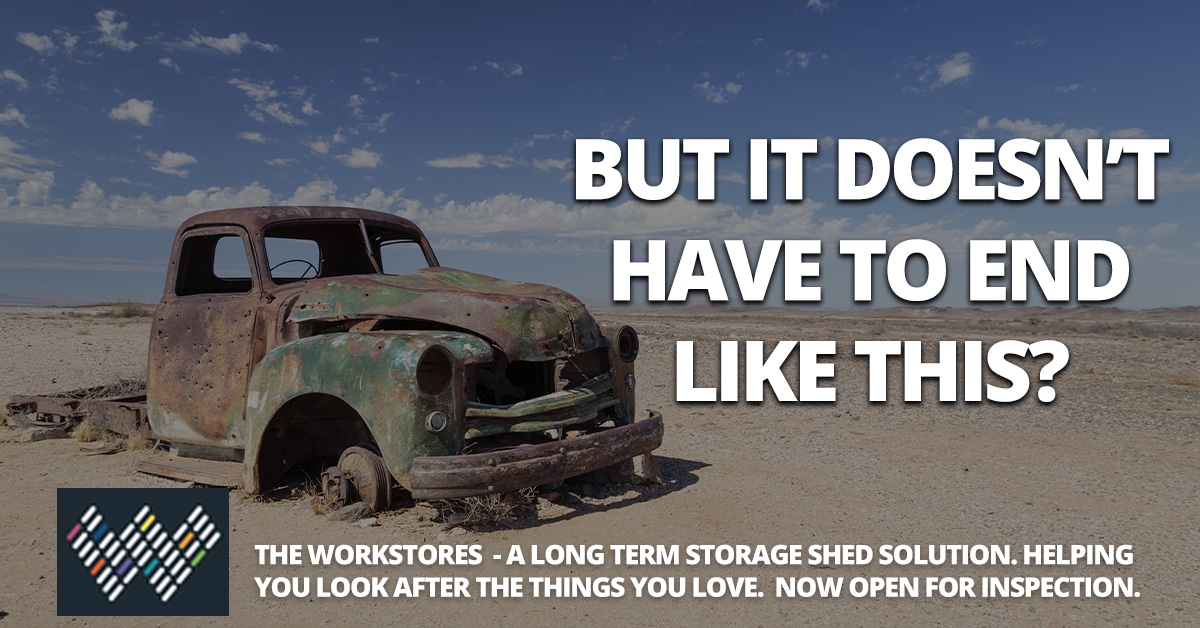 09 Sep

How to securely store a car for 6 months
Long term car storage made easy at The Workstores
Buy a Workstores storage shed today and drive your prized  vintage car straight in tomorrow.
You've paid all that money for it. Now it's time to invest in its care and maintenance. A part of that is making sure it's stored securely when not in use.
Just popping a cover over your car won't cut it.
You need to make sure the car's long-term storage environment provides top notch security 24/7 and you enough space in a convenient location so you're able to check all the vitals before taking it out for a spin – the brakes, checking the tyre pressure and checking for flat spots, fluids and turning the engine over every 2 weeks so your little beauty is purring again when next you go, go, go.
The Workstores floor to ceiling high spec design storage sheds are water tight so there's less chance of visitors from little critters keen to nibble on your cables.
If your car is not well looked after it's only a matter of time before it transforms into a rust bucket. With the option to buy or lease, The Workstores provides you with a great long-term storage option.
Here's a couple of free tips on how to store your vehicle if it's going to be more than 30 days between drives.
Keep it covered in a watertight environment. Luckily, The Workstores is just that.
Give it a quick wash before you store it away making sure no bird droppings or water are left to stain or damage the paint
Changing the oil is recommended by most car manufacturers if you're storing it for longer than just a few weeks
If longer than 30 days you might want to consider jacking the car up and taking the tyres off. This avoids flat spots from appearing on your tyres – particularly if the tyres aren't at the correct pressure. Check the pressure too!
Fill 'er up: Yes seems a little weird if your baby's just sitting there but something suggested to prevent moisture inside the petrol tank.
Avoid the parking break. Again something you might not have thought of but stops the pads and the rotors from fusing. The Workstores sheds are 100% perfectly level but you can also just whack a big fat chock under the tyres to be doubly sure there'll be no movement
Our TOP TIP though is to come and visit The Workstores to see all the space you'll have available to you to tinker with your toy. We're open Tuesdays and Wednesday. CLICK HERE TO FIND OUT MORE
 Architectural high spec design. Squeaky clean floor to ceiling concrete. Watertight. Caretaker. Office. Kitchenette. 
EXCLUSIVE TO THE WORKSTORES
5.4 metre, electric roller doors
7 metre clearance to ceiling
Architectural high-spec design
HD concrete floor
Full height tilt-up concrete panel construction
Individually metered power, water and telecommunication services
Individual water and sewer connection point
24/7 CCTV with mobile viewing
Secure site
Automatic gate to site
Communal wash bay
3 Phase Power
Skylights
Strata Title
Custom Extras like your very own bar.
PLUS many optional extras to suit for additional storage or office space use
Painted Walls
Air-conditioned Office space
Toilet
Kitchenette
Shower
To get yours, register your interest below.
Yes. I'm interested
The Workstores are location in prime locations throughout Brisbane and the Gold Coast. CLICK HERE to choose a location.