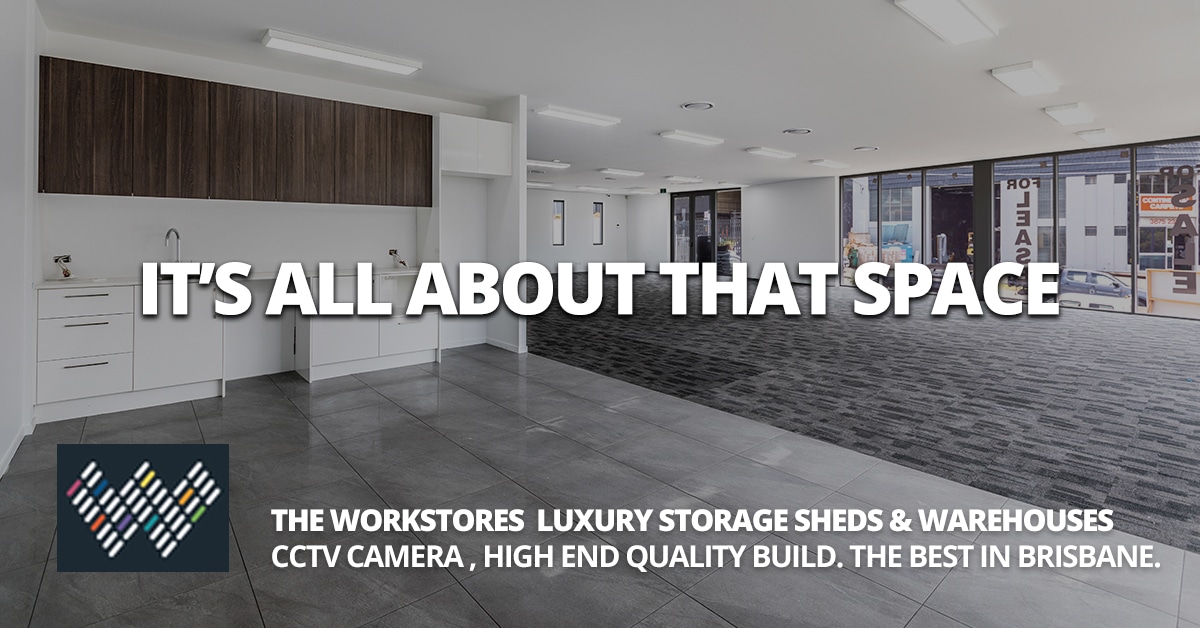 05 Feb

Large storage units for sale now. Shiny and brand new!
From Concept....

...to completion. Yours to buy now...

Looking for large storage units for sale in Brisbane? Salisbury Workstores is ready to buy now.
Welcome to Brisbane's best warehousing, office space and storage solution.
We've listened to the market and this Workstores build ticks all your shed storage, office space and warehousing needs.
Need space now? Salisbury is complete. It's all yours.
A luxury for all Tradies – Time to get organised with the ability to securely store everything you need for the job. Storing all your equipment in one large multi-purpose space is now possible. If you're over doing paperwork on the fly, and missing out on plum jobs, you've even plenty of room to set up an office space making sure quotes, ordering and invoicing are done in a timely manner. No more shoving paperwork in the glove box. Streamline the way you work and be ahead of your game.
The perfect shared office space for creative industries. Is your creative team growing at a cracker pace? Create the perfect workspace in our funky, open plan industrial workspace. The Workstores Salisbury provides an edgy ambience without the top end of town leasing costs. Invest in your business and your people and buy your own perfect work environment. Massive walls to set up your workflow charts, air-conditioning, mezzanine levels for think tank meetings and a 'shop front' style you'd be proud to invite your VIP clients to.
There's also 24/7 security cameras so staying back late to hit that creative deadline is as safe as houses.
If you've a penchant for the purring of a Porsche – With enough luxury car storage space to house a handful of your shiny babies, no one need ever know you've indulged and bought yet another one. Shhhh. We won't tell a soul. All under lock and key available when the urge hits you to hit the road.
The Workstores Salisbury  offers some indulgent luxury extras to make our high-spec practical storage, office and warehousing sheds the perfect fit for anyone just needing space.
Architectural high spec design. Squeaky clean floor to ceiling concrete. Watertight. Funky, creative space for office, warehousing or storage use.
The Workstores Salisbury - now complete! Look at all that space!
EXCLUSIVE TO THE WORKSTORES
5.4 metre, electric roller doors
7 metre clearance to ceiling
Architectural high-spec design
HD concrete floor
Full height tilt-up concrete panel construction
Individually metered power, water and telecommunication services
Individual water and sewer connection point
24/7 CCTV with mobile viewing
Secure site
Automatic gate to site
3 Phase Power
Skylights
Strata Title
Custom Extras like your very own bar.
PLUS many optional extras to suit your specific office and warehouse storage needs
Painted Walls
Air-conditioned Office space
Toilet
Kitchenette
Shower
To get yours, register your interest below.
Yes. I'm interested
The Workstores are location in prime locations throughout Brisbane and the Gold Coast. CLICK HERE to choose a location.