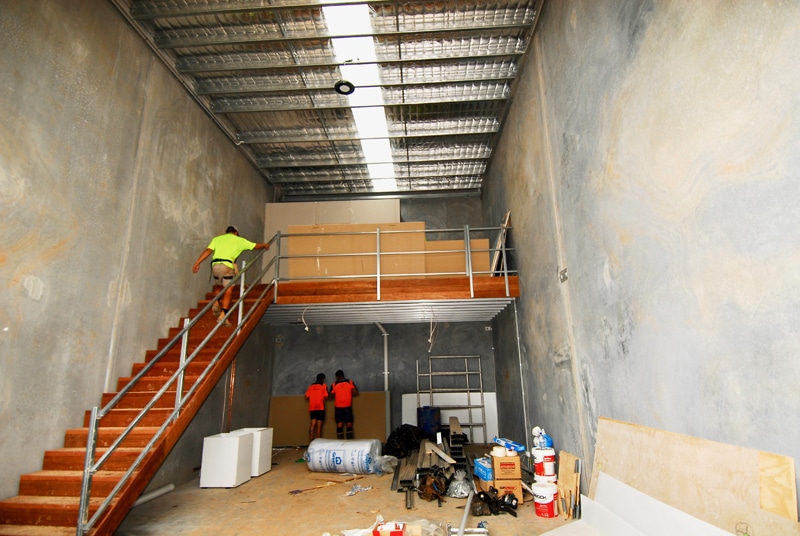 28 Mar

Impressive Progress: The Workstores Wakerley Build Update

EXCEPTIONAL BUILD QUALITY. Below is a selection of photos of the soon to be finished product at The Workstores in Wakerley.  We've experienced strong interest in our small Industrial sheds  particularly appealing to niche markets – tradies, internet based businesses moving up from home offices and 'Manshed' or self storage users.

As was the case for Wynnum and Eagle Farm, we're also expecting strong interest from exotic car collectors looking for clean, secure and watertight sheds for their beloved luxury vehicles.

Each 'Industrial Shed' module is built of tilt Panel Concrete with 7 mtr high internal space and floor plates ranging from 60m2 to 140m2 plus mezzanine storage space of about 50% of the floor area. Not all modules have mezzanines installed initially, such that space can be flexible for caravans, boats or high bay storage.

Each complex of 20-25 modules includes a live-in caretaker to assist with goods deliveries and stock management but also to keep the grounds neat and tidy for long term value retention and growth.

With a fantastic location and secure live-on-site management, The Workstores Wakerley has proven to be popular with anyone needing to more space to work, store or tinker with their prized possessions.

An influx of tradies have also made the choice to purchase space. Instead of cluttering their own personal home garages or sheds, builders, and particularly electricians have chosen to buy a premium space to warehouse tools and equipment. There's also the benefit of the the mezzanine office space where end of day paperwork and invoicing  (and possibly a cold beer from the custom built bar) can be completed before leaving work officially for the day.

This prime piece of commercial real estate is a very sound investment.

Read Official Media Release – The Workstores ahead of time to meet Brisbane Buyers' increasing demand for quality strata sotrage sheds.